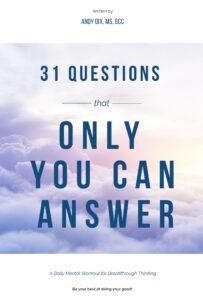 31 Questions that Only You Can Answer: A Daily Mental Workout for Breakthrough Thinking
by  Andy Dix, MS, BCC
Product: EBook
Format: PDF File
Length: 39 pages
Language: English
Begin a life-changing habit of creating new possibilities and exploring opportunities. Learn ways to live a more meaningfully satisfying and successful life by investing at least 10 minutes per day for the next 31 days. Wrestle with challenging questions that only you can answer to your satisfaction. You will experience C-suite grade executive coaching, one item at a time.
"31 Questions that Only You Can Answer" is written in an easy-to-read, one page per day format.
Board-certified Executive Coach, Andy Dix, takes you on a journey of self-discovery across a wide range of topics designed to allow you to experience breakthrough thinking, 
Some of 31 Questions that Only You Can Answer include:
What lies have you told yourself so often that you now believe they are true?

Who do you want to be when you grow up?

In the end, will you be haunted more by your best efforts that failed or your regrets for not persevering?
Be challenged daily by answering a powerfully thought-provoking question and gain added insight from a brief commentary about the key concept explored in each question by Executive Coach Andy Dix.
I hope you will find this brief ebook will be an epic gift from your future best self. It is my privilege to help you be your best at doing your good! –Andy Dix, MS, BCC
Hits: 144